Chali JN-600VS – Panaximco
Thông số JN-600VS
| | |
| --- | --- |
| Cycle |  5 – 2.5 s |
| PP belt width | 6 – 15 mm. |
| PP belt thickness | 0.5 – 0.85 mm. |
| String tension |  15 – 60 kg. |
| Welding belts | use heat welding. |
| Package Size Min |  60 mm. |
| Stable power supply |  220V 50Hz. |
| Product dimensions |  675 W x 1045 D x 1720 H/mm |
| Product weight | 130 kg |
Semi-automatic strapping machine product is Chali JN-600VS machine that requires threading the wire loop through the package and then putting it into the wire slot of the machine before the machine automatically tightens, welds and cuts the wire during transportation. product implementation.
The semi-automatic Chali JN-600VS strapping machine that we are providing is always guaranteed to be a genuine Taiwanese product with good machine quality with fast, efficient baling belt speed.
Tightness of the straps to the package ensures the security of each package.
Origin: Strapping machine Chali JN-600VS semi-automatic, with the height of the machine can be adjusted from 450mm – 850mm, imported from Taiwan, the machine is durable, high tension, can be used For use in wet or dusty working environments.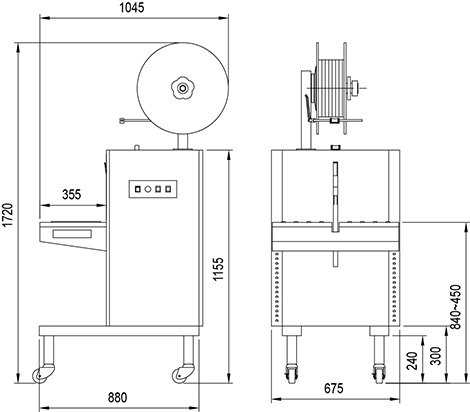 Application: Packing cartons, small packages, parcels that need tight belts like fibers…
Spare parts: products always available, easy to replace.
Warranty: 18 months, of which 12 months according to the manufacturer's standard + 06 months according to Panaximco's guarantee.
Depending on the method of use, the type of product need the belt, the customer can choose between product strapping machine vertical and product straightening machine:
With the machine automatic strapping vertical there is a vertical body inside the case, the belt ejects along the height of the machine, so when belting the parcel, dirt and leaking components cannot fall in. machine body.
Application: The product is suitable for use in bales of bricks and tiles, seafood products, goods with high dust or water leakage in the process of packing goods.
In addition, we also support services such as: strapping machine repair, package belt consulting, strapping machine rental, strapping machine maintenance,
Supply spare parts
Contact us for service support.
Contact: